A Framework for Aligning Sectors
The Robert Wood Johnson Foundation (RWJF) recognizes that addressing complex, community-level barriers to population health requires collaborations between health care, public health, and social service sectors. Building on national research and evidence, RWJF's Framework for Aligning Sectors, under the direction of the Georgia Health Policy Center, produced a framework to guide successful, sustainable alignment for shared progress toward community health goals and health equity. Core components such as shared purpose, finance, data, and governance drive alignment while adaptive factors that are unique to each community such as trust, community voice, power dynamics, and equity enhance or inhibit it.  Learn how the Align for Health framework is helping  advance cross-sector alignment efforts nationwide.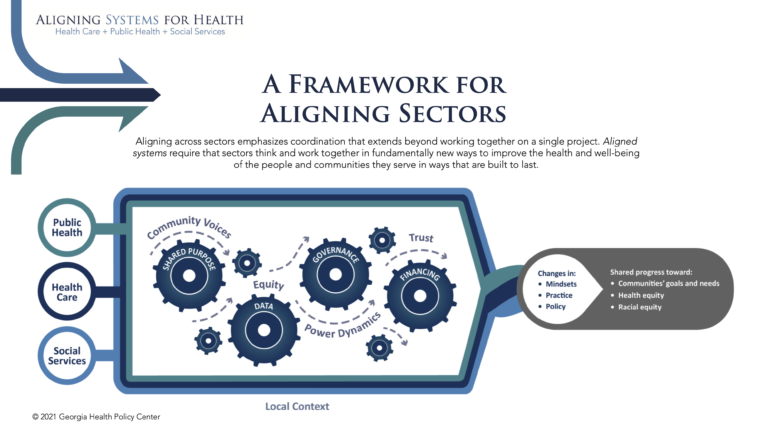 Realist evaluation strives to understand what works, in which circumstances, for whom, and how – rather than simply determining whether an intervention works. Specifically, a realist evaluation framework seeks to identify how contextual factors trigger particular mechanisms and how this combination produces various outcomes. The realist approach is particularly helpful for understanding how complex social interventions and change processes work. 
The purpose of this study was to conduct a realist evaluation of cross-sector alignment initiatives for population health and health equity across Texas with the objectives of:
Testing RWJF's Aligning Systems for Health Theory of Change across diverse contexts;

Translating research findings into actionable recommendations and blueprint for RWJF and users leading or engaged in systems alignment across the nation; and

Developing a baseline portrait of Texas' landscape to guide ongoing and future cross-sector investments toward successfully and sustainably achieving equity.
Building on the realist framework and guided by a Statewide Steering Committee of multi-sector experts, leaders, and community stakeholders, THI collected information and data for this evaluation to validate or identify new insights to modify RWJF's Framework through:
An environmental scan of health equity focused cross-sector initiatives
Key informant interviews with backbone leaders of selected cross-sector alignment efforts
An online survey completed by 200+ public health, health care, social service, and community organizations, and partners involved in cross-sector initiatives
Community focus groups consisting of 135+ participants across five select communities with well-advanced cross-sector initiatives
From talking with our 20 cross-sector alignment initiatives, we found no single home for alignment efforts in Texas. We believe there is an opportunity for funders, intermediaries, leaders, communities, and coalitions to establish a coordinated system and network for learning and exchanging ideas. Stay up to date with Texas Health Institute as we continue to advance health equity in Texas. 
We asked the on-the-ground experts what actually works,
now we want to make alignment easier for everyone in Texas.